As one of the top home painting companies in the Toronto area, we absolutely love reading interior design blogs, and figuring out the best color combinations to create an awesome interior.
One of the most underrated colors out there is blue.   Blue when used right can bring a feeling of calmness to your home and help induce relaxation.   Lighter blues especially can bring a relaxed but alive feeling to the house which is perfect for a work room.  If you live a busy life, you know the importance of getting some calm rest in.  Blue used on the exterior of a home can result in an eye catching result that will get a lot of positive attention.
A common thread among the following examples is that nobody skimped on the quality of paint.  Using cheap paint has many downfalls, and it's something we don't recommend at all.
Want to Figure Out How Blue Fits Into Your Home's Overall Color Scheme? Download Our Ultimate Guide to Choosing a Color Palette by Clicking Here.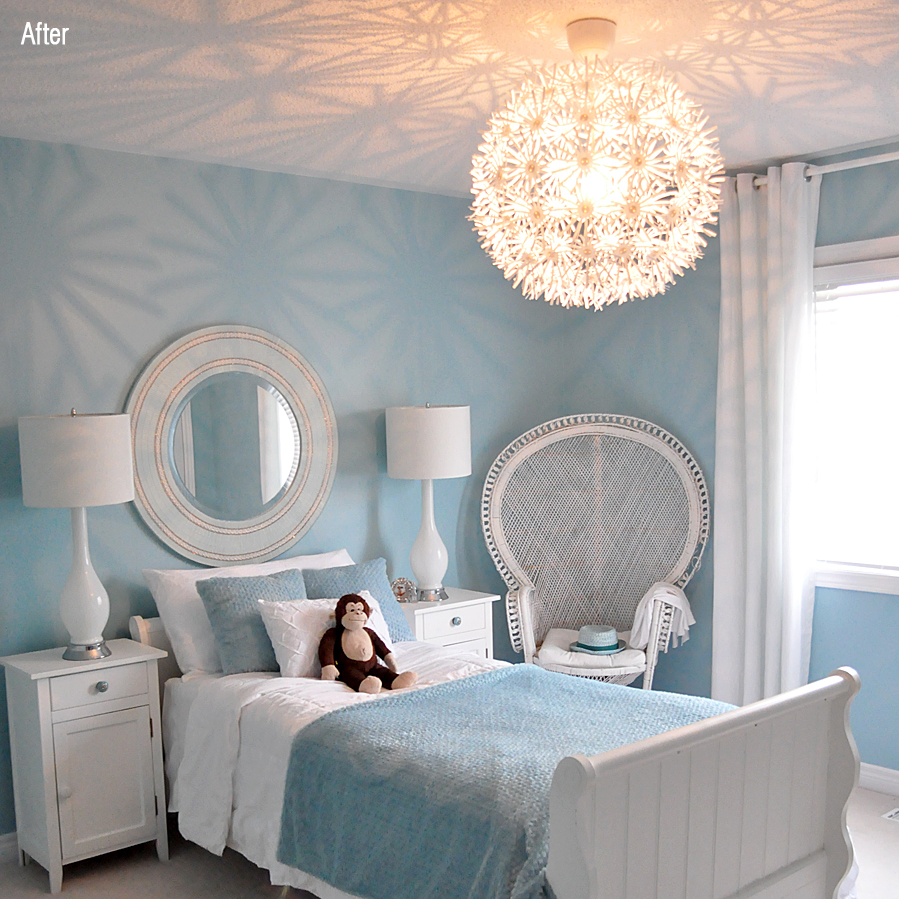 1.  Tranquil Blue by Benjamin Moore's (Source: Mosiac Works)
This relaxing shade of blue is used to create the perfect room to nap in on a rainy afternoon.
2.  Polo Blue by Benjamin Moore's (Source: Apartment Therapy)
This dark and stormy color is the perfect color for a bedroom for the writer in your life.  The color evokes imagery of Moby Dick and dark adventures on the sea.
3.  Custom Paint using a blend of "Spring mint" and "Antiguan Sky" by Benjamin Moore's (Source: Celebrating Every Day Life)
This incredible custom mix gives an oceanic feel to the bedroom.  Perfect for an Oceanside home.  Imagine waking up to that room right to the sound of ocean waves crashing!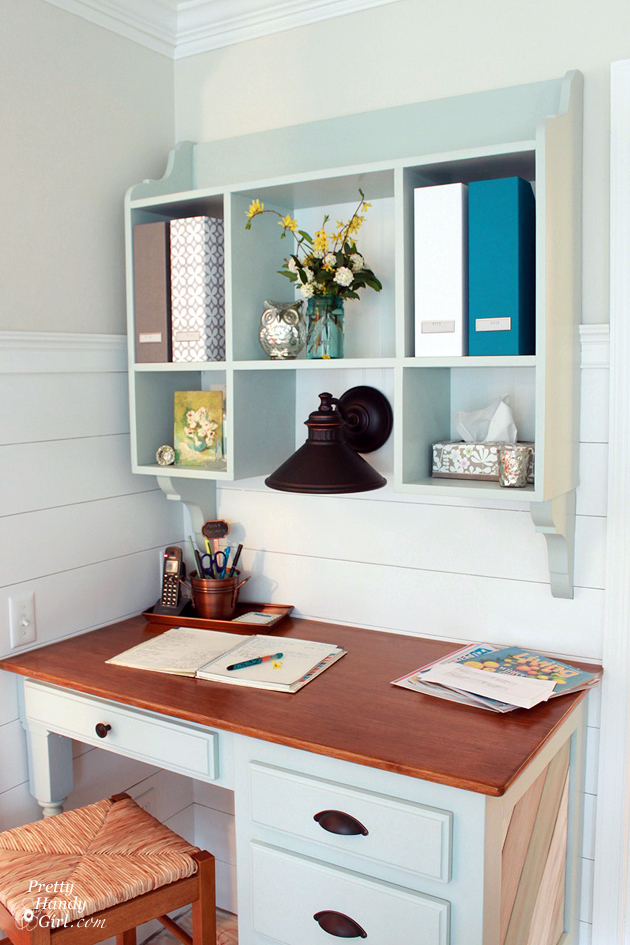 4.  Sherwin Williams Copen Blue (Source: Pretty Handy Girl)
This workspace uses lighter blue for the cabinets, desk, and wall to create the perfect workspace.  The importance of relaxation for work can't be understated.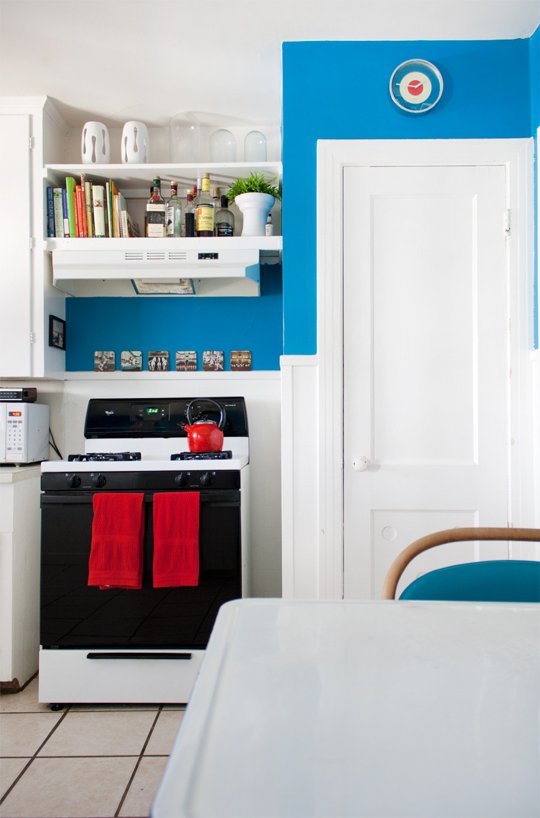 5.  Belizean Blue by Glidden (Source: Apartment Therapy)
The contrast of a bright blue and white in this kitchen works wonders to create a bold, vibrant, and uplifting mood.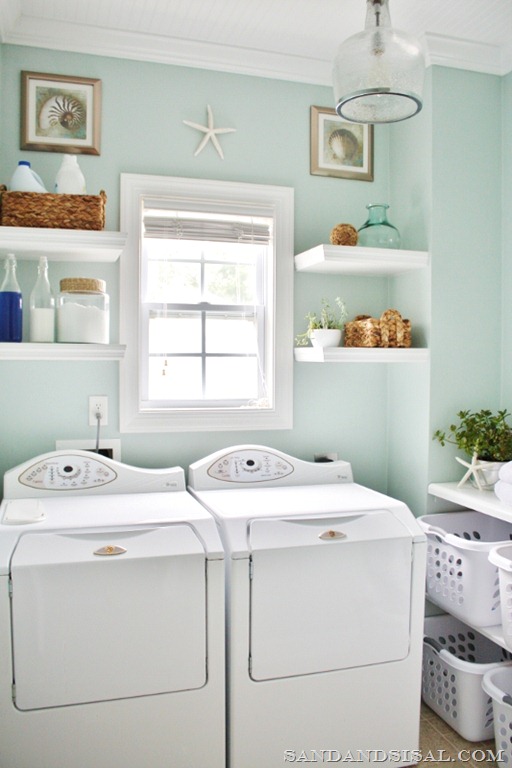 6.  Sherwin Williams Rainwashed (Source: Sand and Sisal)
This laundry room will make you want to actually do laundry.  This particular color gives a lighthearted vibe to a room most of us dread going to.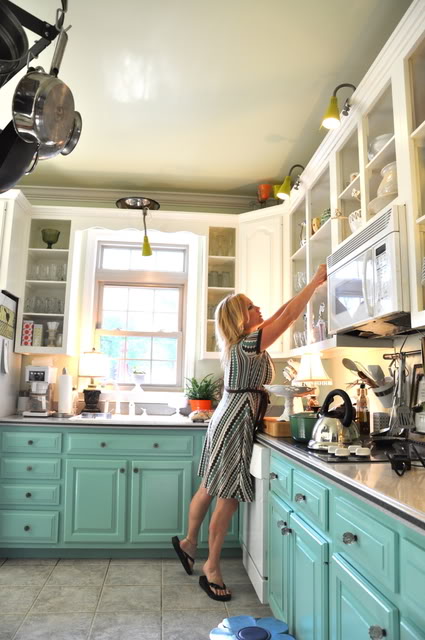 7.   Woodlawn Charm by Valspar (Source: Life in Grace)
Painting cabinets with a blue color can be a great way to add in a bit of personality to an otherwise boring room.  I highly recommend having your cabinets painted as it can really transform a kitchen space.
Do you want to use blue for your next project? Our color palette guide will help you choose the perfect complimentary colors to give your home that "Perfect home" look.
We absolutely love interior painting projects!  They can help transform an indoor room into something special.   Our current favorite location for interior painting is Lawrence Park, where people are very open towards doing somethings special with their homes.
There was an issue loading your exit LeadBox™. Please check plugin settings.